Baseball camp for youth comes to Piikani at the end of August.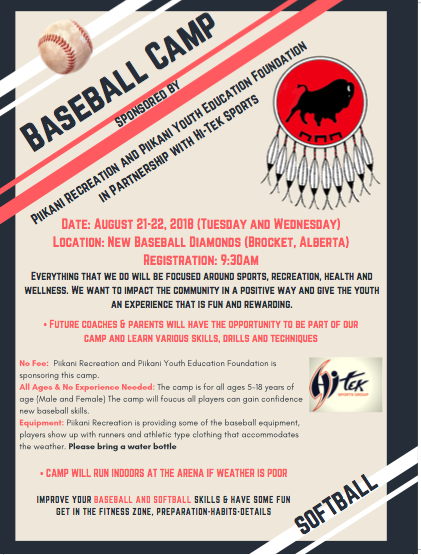 A two-day baseball camp is set to make its way to Piikani next month.
Hi-Tek Sports will host a free two-day baseball camp for youth at the baseball diamonds near the Piikani Secondary school.
Leroy Crazy Boy, who assisted in bringing the camp to the reserve, said the two days are going to focus on basic skill training such as throwing and catching the ball properly.
The camp is geared towards youth between ages six to 17 years old.
It will focus on skill levels starting from beginner into intermediate, which means there is no prior experience needed to participate.
"The purpose of this is to challenge themselves to a different level to the game and hopefully will see one of our own playing for the Bulls someday," Crazy Boy said.
Crazy Boy adds that it would be nice to see the youth in the community participating in the popular summer sport.
Hi-Tek sports is an organization based out of Lethbridge that runs youth athletics camps that focuses on skill development in sports such as Baseball Hockey and Lacrosse.
Chris Leroux, Co-owner for Hi-Tek Sports, says the camps are designed to travel to various communities around southern Alberta.
"It just works because they get to stay in their own hometown, they don't have to travel and it builds a positive community spirit," Leroux added.
If the camp is successful it may return next summer with the possibility for an additional hockey camp in the fall.
You can find registrations on Piikani Resource Development or click on the link below.
Registration Form and Waiver 2018 Piikani 
Please follow and like us: